Hi,
I'm Stewart and I help top coaches and consultants like you reach the eager clients who are already searching for your expert help on Google.
I've met many great and inspiring coaches who have already built a strong sales channel like Youtube or Facebook, both paid and organic.
But many don't realise the potential they are leaving on the table with Google.
Organic Google search drives the highest conversion rate of any channel. Period.
Why? Someone searching for a product on Google is very likely to then buy that product when they find it.
I'm talking 20-30% conversion rates.
And that's a sales channel that is pretty much passive if it is set up properly. In fact, a blog post should actually get MORE traffic as it ages. The average number 1 page on Google is about three years old!
You don't have to post every day at a certain time like social media.
You don't have to worry about your ad costs going up with inflation.
You just build a site full of great content and watch as it drives evergreen traffic and leads for years to come. 
Sell products, build an email list, retarget visitors on social… you can do anything with that audience of thousands of visitors every month.
You're building an empire. Not just for your current offers, but an eager audience for all your future launches too.
But of course there's a catch.
You have to write the right content, in the right way to get traffic from Google.
But most of the time the issue with Google is competition.
You need to compete with all the other sites competing for those same clicks.
The answer comes down to how Google ranks content.
And after great quality content the most important factor is links to you from other websites.
That's how Google works.
Every link is like a little vote of confidence that your site is trustworthy and authoritative and has the right to rank at the top of page one.
I've scaled a full team devoted full-time to contacting thousands of websites and negotiating high quality placements linking to my client's sites so they rank higher.
Just look at this example I secured on Superprof for my languages client Michele.

Superprof is a very powerful site with a Domain Rating of 57 and 300,000 visitors per month.
A link from them is a strong sign to Google that my client is a worthy authority on learning Italian.

So while competition is tough, I've had great results overcoming it through scaled processes.
The good news is I've worked with a lot of coaches and the opportunity right now is wide open.
I've met some great coaches just like you who have found their special niche, and no matter how small that niche may be I am always amazed at how many people are searching for it on Google.
And most coaches are not focusing on Google. And most SEO pros are not in the coaching niche.
Here's my client Michele in the languages niche. 
She already had a great blog, but once we started getting other authoritative websites to link to one of her product pages her traffic and sales took off.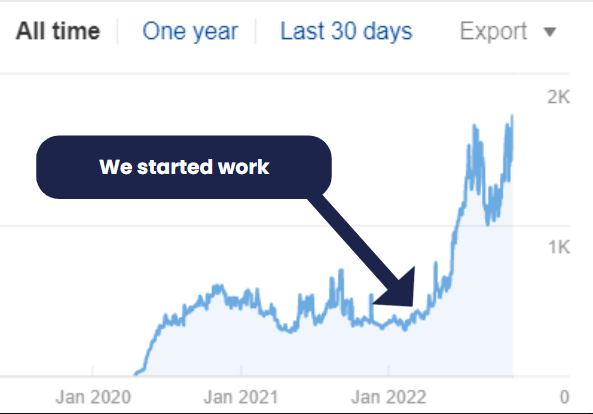 Next we have Daniel Bauer – an amazing coach focused on helping school principals become better leaders.
I met Danny at Ron Reich's incredible mastermind in Medellin.
He had a great website and had been blogging about topics he thought relevant to his audience, which was getting a bit of traffic.
But overall it had been declining for over a year.
However, I produced a list of topics for Danny to write about that principals were searching for that he hadn't addressed yet.
I coached him on how to write it so that it would rank on Google, and started building links to his site at the same time.
Now normally a new blog post takes months to start ranking on Google.
Danny's hit number 2 on Google within two weeks of hitting publish.
Six weeks later, it climbed to number 1.
It was instantly the top-performing page on the site, generating 400 relevant new visitors every month.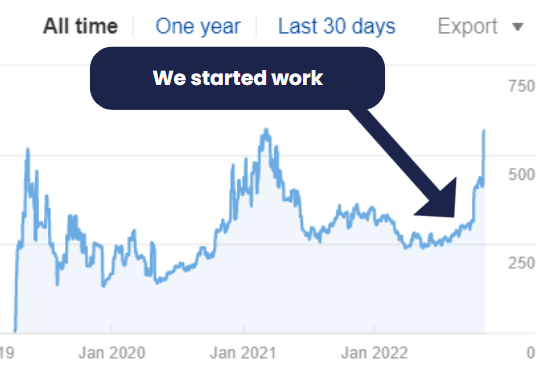 This was a great example of how just a small amount of my help made a big difference to someone's business.
The bad news is that Google gets more competitive every year.
Most of the rewards go to those who started longer ago and worked fast to grow their content and links. 
New players struggle to break in.
But while the best time to plant a tree was decades ago, the second best time is now. 
And that's the same for your online empire.
With my skills and team we have the ability to execute and scale fast to get you caught up and surpassing your competition.
All it takes is for you to act.
Since I discovered the secrets to helping coaches rank on Google my services have been snapped up quickly.
Schedule a consultation today and take the first step to dominating Google for years to come.
– Stewart